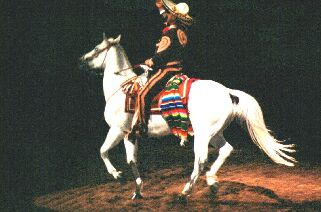 Charro champion Gerado"Jerry"Diaz of San Antonio,Texas is following in his father footsteps.Diaz demonstrates horsemanship and rope artistry,wearing authenic Mexican attire as he dazzales the crowd with his speacialty act.

A charro is more than a cowboy,"said Diaz.He is a skilled horseman whose traditions go back to the 17th century.a lot of family history is passed on from father to son.

"My father says riding is like playing a piano,"said Diaz,who is accomplished in reining and dressage."It is something you must feel.You must have it inside you for it to be beautiful."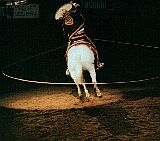 Jerry is an artist with his maguey rope,which he spins on foot or atop one of his welled trained mounts.His horses know how to bow and lie down and are dependable partners.It usually takes two or three years to train a horse.We don't use any quick training methods.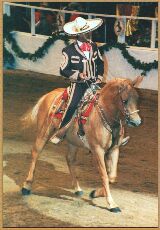 Jerry Diaz personfies the charro code of chivalry,high ethics,superior horsemanship and dedication to family and charro traditions.